Tank Heating Eductors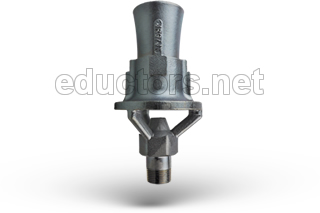 Tanks Eductors are stocked in sizes from 3/8″ up to 3″ in both Carbon Steel and 316LSS.
There are many advantages to using Tank Heating Eductors for heating liquids in open vessels. These give the vessel heating eductor a place as a viable option for heating in many types of vessels.
The tank eductor heater provides direct contact of the steam into the liquid. This assures complete transfer of the energy in the steam into the liquid being heated. Other types of heating lose efficiency as the interior of the heat exchanger builds up a scale. With eductors, the velocity of the steam being injected into the vessel also causes the liquid contents of the vessel to be agitated while heating occurs, without the need for other types of mixers in the vessel. This provides for more even heating of the vessel contents. They also permit the steam to be dispersed over more of the liquid volume, resulting in a more homogenous heating than with other methods of injecting steam.
These designs of eductors allow steam to be used from 10 to 140 PSIG for heating. Because of the nature of direct steam injection, heating vessels at atmospheric pressure beyond 140° F should not be attempted. Exceeding this temperature could result in uncondensed steam evolving from the liquid.
Performance Chart – Volume of Liquid Heated Per Minute (Referred to as Qm) GPM
Size
ΔT
10 PSIG
20 PSIG
40 PSIG
60 PSIG
80 PSIG
100 PSIG
120 PSIG
140 PSIG
3/8″
25
8.5
11.6
17.7
24.2
30.1
36.2
42.1
48.2
50
4.2
5.8
8.8
12.1
15.1
18.1
21.1
24.1
75
2.8
3.9
5.9
8.1
10.0
12.1
14.0
16.1
100
2.1
2.9
4.4
6.0
7.5
9.0
10.5
12.0
125
1.7
2.3
3.5
4.8
6.0
7.2
8.4
9.6
3/4″   
25
16.9
23.2
35.4
48.3
60.2
72.4
84.2
96.4
50
8.5
11.6
17.7
24.2
30.1
36.2
42.1
48.2
75
5.6
7.7
11.8
16.1
20.1
24.1
28.1
32.1
100
4.2
5.8
8.8
12.1
15.1
18.1
21.1
24.1
125
3.4
4.6
7.1
9.7
12.0
14.5
16.8
19.3
1-1/2″    
25
33.8
46.5
70.8
96.7
120.4
144.7
168.5
192.8
50
16.9
23.2
35.4
48.3
60.2
72.4
84.2
96.4
75
 11.3
15.5
23.6
32.2
40.1
48.2
56.2
64.3
100
 8.5
11.6
17.7
24.2
30.1
36.2
42.1
48.2
125
6.8
9.3
14.2
19.3
24.1
28.9
33.7
38.6
2″   
25
67.6
93.0
141.6
193.3
240.9
289.5
337.0
385.6
50
33.8
46.5
70.8
96.7
120.4
144.7
168.5
192.8
75
 22.5
31.0
47.2
64.4
80.3
96.5
112.3
128.5
100
16.9
23.2
35.4
48.3
60.2
72.4
84.2
96.4
125
13.5
18.6
28.3
38.7
48.2
57.9
67.4
77.1
PLEASE CONTACT US TO DISCUSS USING LARGER SIZED TANK HEATERS